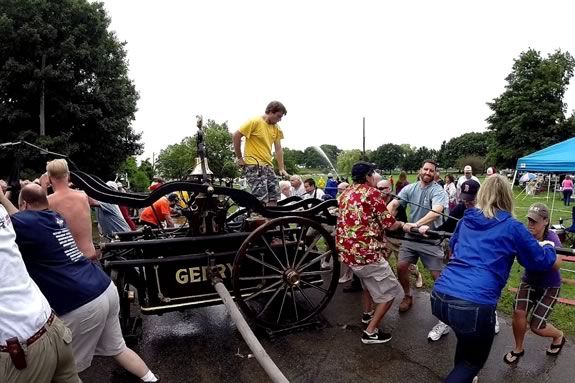 The Fireman's Muster at Salem Willows is part of Salem Heritage Days and an awesome event. An antique hand-pumped fire engine muster where crews pump their machines to see who can play the longest stream of water. This is the oldest organized sport in the United States. Spectators are invited to try out pumping the machines!
A suction hose goes into the water tank, which is kept full from a hydrant or a tanker truck. The foreman stands on top and keeps an eye on optimal wind conditions. The pipe crew handles the nozzle and aims the powerful spray down the line of red resin paper that is the playing field. The judges measure the farthest flung dime sized drop of water to determine who wins each class.
For more information on the sport and the machines visit: http://www.handtubs.com/
The first firemen's muster was held on July 4th, 1849 in Bath, Maine. It was a competition among crews with hand pumped fire engines to see who could shoot the longest stream of water. The tradition has been kept alive into the 21st century; every year on a Saturday close to July 4th, another muster is held in Bath.
On November 20th, 1890, the New England States Veteran Firemen's League was founded in Boston. Musters were held all over New England, often attracting 50 or 60 entrants.
There are two classes of machine: A and B. The class is determined by the size of the cylinders. Each machine is allowed 15 minutes on the pumping platform to shoot as many streams as their crew can manage.
When:
Saturday, August 3, 2019 12-3pm