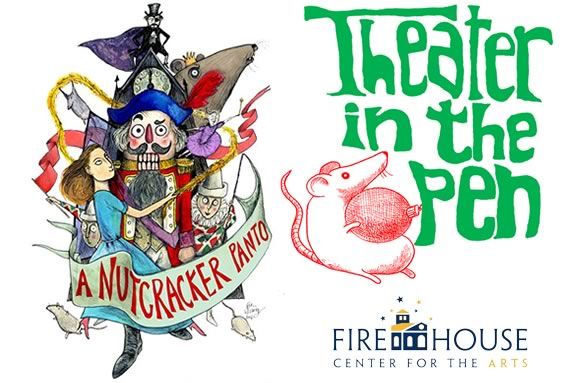 The tree is lit up and the stockings are hung and Clara's Christmas is perfect…except for her Uncle Drosselmeyer sitting up on that clock and the sudden rat infestation…sounds like panto time!Edward Speck and Joshua Shack return to direct another cracking holiday panto, this time seizing on Tchaikovsky's classic holiday tale to do what panto does best: make a favorite old story new and particular to our place and time again. What does Clara's magical journey have to teach us? How many nuts would a nutcracker crack if a nutcracker could crack nuts? Let's find out! Come with us as panto and ballet collide in a delicious mix of sugar plums and pies-in-the-face, dance and comedy, fairies and snowballs, in A Nutcracker Panto!
Wondering what, exactly, a Panto is? Pantomime, or panto, is a long-standing musical-comedy theatrical tradition, performed throughout the United Kingdom, often during the holiday season. Panto is playful, inventive family entertainment that begins with a familiar story or fairy tale, then takes off from there. Part of the fun with panto is the audience participation — it takes only a few minutes to realize that the actors are having as much fun as the audience! With panto, there is truly something for everyone to enjoy, young and old, alike.
About Theater in the Open: For 37 seasons, Theater in the Open has been transforming the magical tradition of storytelling into theater that is open and accessible to all. Using puppetry, pageantry, music, movement and acting, TITO presents and explores myths, classic literature, original scripts, and modern dramas that reflect the diversity of cultures around us.
When:
Friday, December 10, 2021 7pm
Prices:
Adults: $16
Members, Students & Seniors: $14