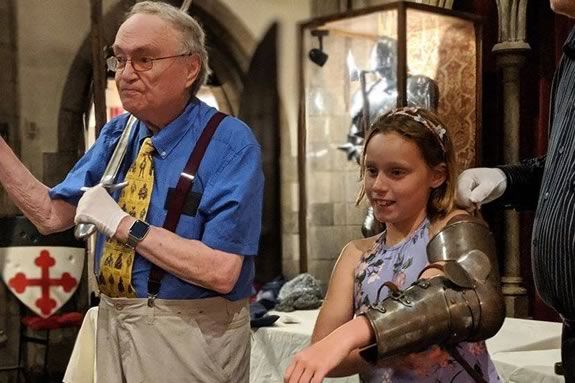 Special Guests Former Curator and Executive Director John Pettibone and Curator and Creative Director Scott Cordiner will host a lecture and demonstration of the History of Medieval Arms and Armor. Pettibone has spent many years studying the ancient art of armor and examples from the castles collection will be on display including: Japanese samurai pole arm (naginata), an armored sleeve and shoulder protection from a Japanese Samurai, and a two handed European sword. He will talk about how one became a knight and the rules of knighthood.
Following the presentation, Knighthoods will be conferred with a Dubbing Ceremony for girls and boys of all ages in order to induct our newest members into the Order of the Junior Knights of Hammond Castle.
At the conclusion of the program there will be a question and answer session, an opportunity to try on the Armor and a tour of Medieval aspects of the Museum.
Space is limited to 40 guests. Advanced tickets can be purchased for $20 per person $10 for children 5-12.
When:
Saturday, April 25, 2020 9:30-11am
Prices:
Adults: $20
Kids 5-12: $10.00