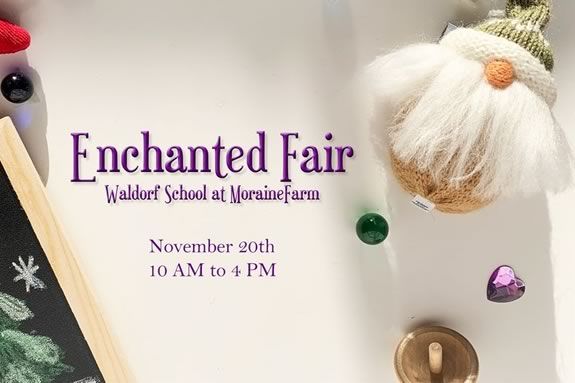 Waldorf School at Moraine Farm will host a fully outdoor, reimagined Enchanted Fair. Complete your holiday gift shopping with the help of our unique vendors, and then join us for, storytelling, craft making, caroling, food, and more! It's fun for the whole family!
This event is rain or shine.
Proceeds raised at this event will support WSMF's Annual Fund, enabling us to continue providing the best possible education to our students.
About Waldorf School at Moraine Farm
Waldorf School at Moraine Farm is one of 121 Waldorf schools in the United States and nearly 1,090 Waldorf schools worldwide. 
Waldorf School at Moraine Farm is an independent, non-profit school founded in 1986. The school is located on ten acres of the historic Moraine Farm property in Beverly. It serves approximately 100 students from pre-kindergarten to eighth grade, and homeschooling families. The school has open enrollment year round. 
The mission of Waldorf School at Moraine Farm is to help students discover and develop their individual capacities and build self-confidence, so that they can fully engage in the world and contribute meaningfully to society.
To learn more about the Waldorf School at Moraine Farm, visit www.waldorfmoraine.org or call 978.927.8811.
When:
Saturday, November 20, 2021 10am-4pm
Adult Shopping Night, Friday, November 19, 2019 from 7 to 9pm.