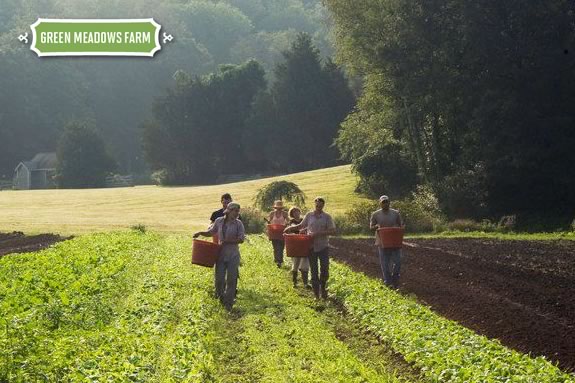 You do not have access to view this node CSA Shares are available now!  The farm vegetable share starts in just a couple weeks. If you haven't signed up for your share yet, now is the time to do it. Members always have lots of choice in their share and we have flexible pick-up times. It's a great way to support the farm. So many members tell us that their weekly trips to the farm really help them unwind. The farm needs local support now to ensure that they can continue to grow some of the finest locally-grown, organic produce available on the North Shore!
At Green Meadows Farm, we offer a "market-style" CSA (as opposed to the typical boxed share) where members choose between a variety of greens and then receive a mix-and-match poundage of items like eggplant, peppers, carrots, leeks, onions, kohlrabi, fennel, broccoli, summer squash, beets, cabbage, etc. We do have to limit some items due to availability.
Large Shares usually receive between 2-4 bunches of greens or heads of lettuce along with 4-6 lbs of weighed items. Small Shares will usually receive 1-3 bunches of greens or heads of lettuce and 3-4 lbs of weighed items. The poundage is an assemblage of whatever the member wants that week, which you choose when you come.
New members can sign up online or in person at the farm stand with a check!  Paying by check saves the farm money, which in turn is used for farm operations.