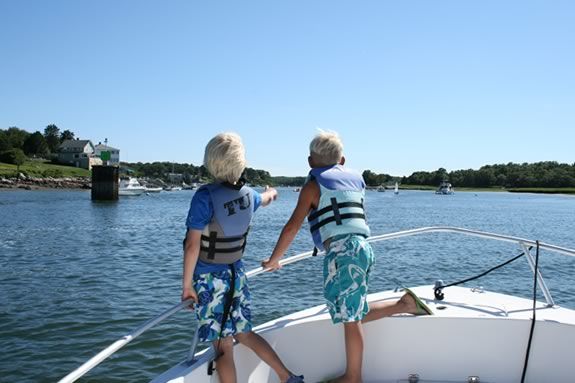 U.S. Coast Guard & Massachusetts State Approved Boating Safety Course - "Boat America". This is THE course to get you educated, safe, and ready for proper vessel operation as well as covering the lawful requirements as a boater. We're proud to present this nationally recognized boating safety course, titled "Boat America".
An exciting, in-depth boating safety course titled "Boat America". This beginner-intermediate U.S. Coast Guard approved boating class will give you the knowledge needed to obtain a boat license or safety certification in many states. Many boat insurance companies will offer discounts on boating insurance to boaters who successfully complete "Boat America". This essential and valuable course will guide you through all the basics of boating. If you're new to boating, or need to learn the laws, or understand how to navigate in our waters, or simply need a refresher, this course is for you. Taught by U.S. Coast Guard certified instructors, who live/work/patrol in the Newburyport/Essex/Ipswich/Cape Ann/Rowley - North Shore MA area.
Most importantly, we offer valuable in-person instructor-led expertise and local knowledge.
Your ticket includes admission to the course, the Boat America course-book, a MA state guidebook, additional materials and resources, ongoing instructor support, administration of the test, results submission to relevant authorities to receive your state certificate, as well as a USCG Auxiliary certificate & student card.
The Ipswich Flotilla of the USCG Auxiliary is your local source for ongoing boating safety needs & liaising w/ active duty US Coast Guard. We also patrol our local waters, provide no-cost vessel examinations, provide helpful materials (ie paddlecraft ID stickers - which are now required for any/all paddlecraft use in Ipswich), and continue our public education through other courses and seminars.
"Boat America" Course Schedule
Days: Tuesdays (May 16, 23, 30 & June 6)
Hours: 6:30pm-9:00pm
Duration: ~10 hours over 4 classes
Lessons: 4 consecutive, 1 per week on Tuesday Evenings
Location: Ipswich Town Hall, 25 Green St, Ipswich, MA 01938 - "Meeting Room A" - Upstairs. (Enter main door, stairs on right after 1st office)
When:
Tuesdays, May 16-June 6, 2023 6:30-9pm