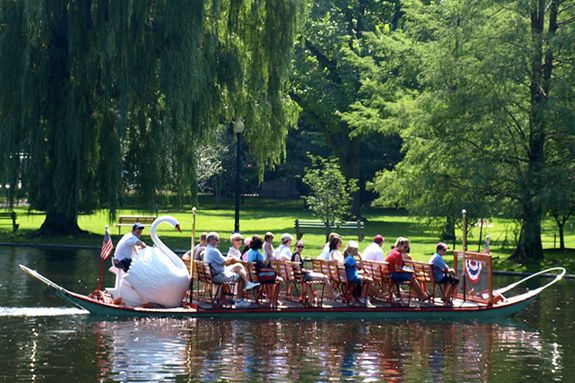 The Public Garden may be one of the most ideal picnicking locations in Boston. Well-groomed and overflowing with tulips, cherry-trees, with willows cascading over the duck pond, the Boston Public Garden is a great place to relax during Boston's most beautiful season.
While enjoying the Public Garden and for a budget friendly price, visitors can enjoy a 15 minute peaceful cruise and absorb the splendor of the Boston Public Garden's many botanical wonders.
Famed in the stories Make Way for Ducklings and The Trumpet of the Swan, the Swan Boats are the only boats of their kind in the world. For over 120 years, the Swan Boats have appeared in the Public Garden Lagoon every April. Open 7 days a week, weather permitting.
Note: The Swan Boats cannot operate on rainy, windy, or extremely hot days.
When:
Saturday, April 13, 2019 to Sunday, September 2, 2019
Spring (April to June 20) 10 am to 4 pm
Summer (June 21 to Labor Day) 10 am to 5 pm
The Swan Boats are open every day, weather permitting. We cannot operate in rain, high winds or extreme heat.
Prices:
Adults $4
Seniors $3.50
Children $2.50 (age 2-15)
Children under 2 yrs. Free