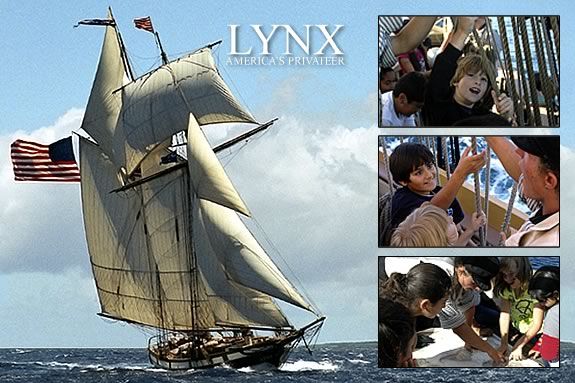 The celebrated War of 1812 Tall Ship LYNX "America's Privateer" comes to Newburyport for the first time! Lowell's Boat Shop is pleased to partner with the Lynx Educational Foundation operators of the Tall Ship Lynx for her first time ever visit to the city of Newburyport, MA from June 2-6.  It is our high honor to bring this national treasure Lynx to the birth place of the United States Coast Guard, Newburyport.
The Privateer Lynx will be available for free public deck tours with a suggested donation of $5.00 / $10.00 family on Friday, Saturday and Sunday 11 to 5pm.  Lynx also has limited availability to offer deck space of up to 65 people for evening receptions during her visit. 
The Lynx Educational Foundation is a non-profit, non-partisan, educational organization, dedicated to hands-on educational programs that teach the history of America's struggle to preserve its independence. The maritime challenges during the War of 1812 are taught aboard the American Privateer Schooner Lynx utilizing a comprehensive, interactive program designed to enrich personal achievement through teamwork and the discipline of sail training.
Lynx - America's Privateer Trailer HD
When:
Thursday, June 2 - Monday, June 6, 2016