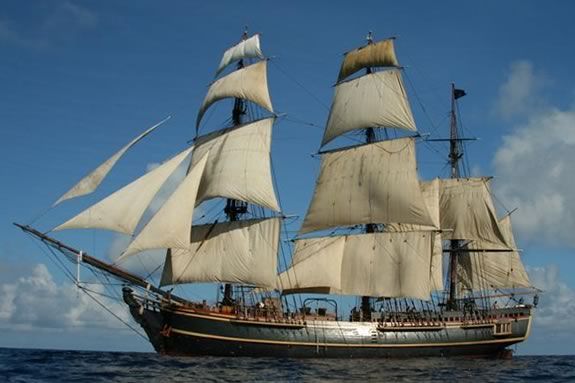 The HMS Bounty will come to Newburyport on Friday July 13 and stay through the weekend offering public tours! Tours will run Friday 10am-3pm, Saturday and Sunday 10am-5pm. In addition to tours of the Bounty there will be entertainment at waterfront park for everyone visiting the Bounty and Newburyport.
Entertainment at Waterfront Park for the weekend will consist of:
This 180-foot-long replica of the famous 18th century ship was built in the early 1960's as a floating movie set for the 1962 Marlon Brando motion picture [amazon B000HWZ4C0 inline].  It has also been in many other films including [amazon B000I0RQVI inline]. In 2010, Bounty sailed through all five Great Lakes as part of the ASTA Tall Ships Challenge.  In 2011, she visited Europe.  This year, the ship is making stops at various ports on the U.S. East Coast.
When:
Friday July 13, 2012 10am-3pm
Saturday & Sunday, July 14-15, 2012 10am-5pm