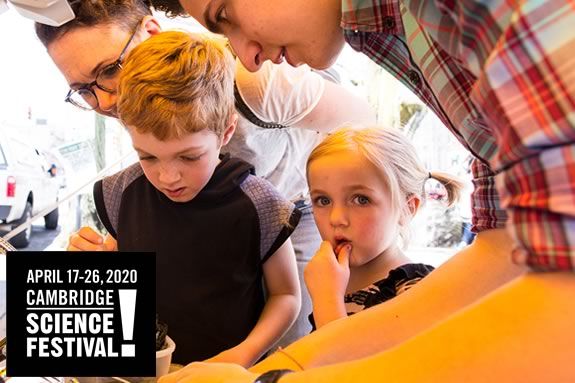 The Cambridge Science Festival a fun and engaging 10-day celebration. Be Curious! Check out the leading edge in science, technology, engineering, and math in our region. The Cambridge Science Festival makes science accessible, interactive and fun with hundreds of events taking place in and around Cambridge, MA.  For ten days, April 17 - 26, Cambridge and Greater Boston will come alive with science and offer exhibits, activities, fairs, demonstrations, lectures, debates, concerts, plays, workshops and all kinds of interactive events for kids, families and curious individuals! Everyone Welcome!
Don't miss our largest single event, The Science Carnival and Robot Zoo, with more than 100 ways to get hands-on with Science! Saturday, April 18, 12-4pm, full details here: https://www.cambridgesciencefestival.org/science-carnival-robot-zoo/
Events will happen across Cambridge and beyond. All are welcome! Events cover a gambit of scientific interests like urban astronomy, robotics, birds, water science, art & science, and more.
Children will have a lot of opportunities to speak with people who have dedicated their lives to science, and also interact with grad students who are studying to become experts in their chosen fields.  Lots of hands-on activities will engage kids, and pique their curiosity! 
So mark your calendar, check the website and be ready for 10 days of science and fun this Spring!