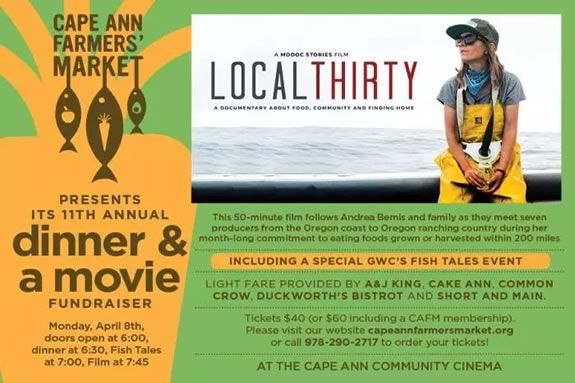 The Cape Ann Farmers' Market will be holding their annual fundraiser this year at the Cape Ann Community Cinema! Join them for a dinner and movie at the cinema featuring the film 'Local Thrity', a film that follows farmer Andrea Bemis and her family as they meet seven producers from the Oregon coast to Oregon ranching country during a month-long commitment to eating foods grown or harvested within 200 miles. Maureen Aylward bring the storytelling program, Fish Tales, which she produces through the Gloucester Writers Center, back to our fundraiser with the theme "Food for Thought." Come enjoy the community spirit, share a movie and a meal and help support the Farmer's Market.
'Local Thirty' Movie Trailer
Buy it at Amazon: [amazon:B00MI56UI6:inline]
Food and service generously provided by local business:
Duckworth's Bistrot
Short and Main
Common Crow Natural Market
A&J King
Cake Ann
The Cape Ann Farmers Market:
Promotes local agriculture and small scale production
Helps boost the Cape Ann economy
Forges community ties to propel Cape Ann into a more sustainable future
The Cape Ann Farmers' Market provides consumers with fresh, nutrient rich food produced with environmentally benign methods and delivered with a smaller carbon footprint. Buying from local producers keeps food dollars in the local economy.
Fun and Learning
Cape Ann Farmers' Market includes music, work by local artists, educational booths, children's activities, and cooking demonstrations that create a festive community building atmosphere.
For the Whole Community
The Cape Ann Farmers' Market is a huge success, attracting at least 1,200 visitors per market. We are reaching out to provide fresh, nutritious food for the entire community, regardless of income. Through The Food Project, we accept Women, Infants and Children (WIC) coupons, Seniors' Farmers Market Nutrition Coupons, and Food Stamps.
When:
Monday, April 8, 2019 6-9pm
Prices:
Standard Admission: $40
Admission/CAFM Membership: $60