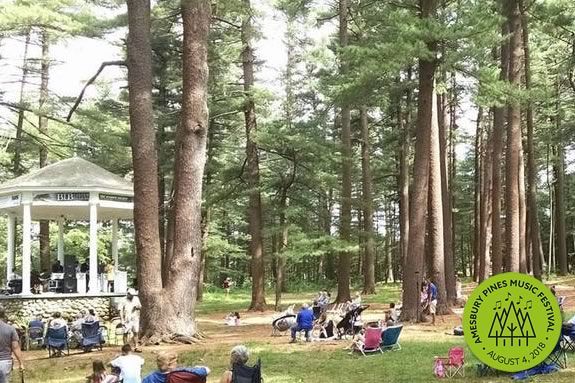 The Amesbury Cultural Council is bringing back the Pines Music Festival to Amesbury Town Park for it's second year in a row. The festival is free, family-friendly and open to the public. The festival features 3 bands, a variety of food, and a beer garden. Come to Amesbury to enjoy the peaceful setting of Amesbury Pines and the newly restored bandstand!
Music Schedule:
The Merrimack Valley Concert Band | 1:30 to 3:00pm

Offers a broad mix of popular, jazz, swing, patriotic and Broadway tunes taken from the 'Great American Songbook.' Instrumentation includes wind instruments, drums, glockenspiel - even a string bass.

EJ Ouellette & The Amesbury Pines Music Festival is a great afternoon of family fun and music in Amesbury Massachusetts!! Crazy Maggy | 3:30 to 5:00pm

Features front man, string wizard and songsmith EJ Ouellette. Leading his band Crazy Maggy, the guitar journeyman and fiddle master demonstrates creativity and passion with original songs and fiddle-driven rock tunes.

Cuppa Joe | 5:30 - 7:00pm

Back by popular demand.  The jazz & blues quartet performs classic soul tunes of the 1950′s & 1960's from artists like James Brown, Elvis Presley, Frank Sinatra, and Johnny Cash.
When:
Saturday, August 4, 2018 1-7pm
Rain Date: August 5, 2018 1-7pm