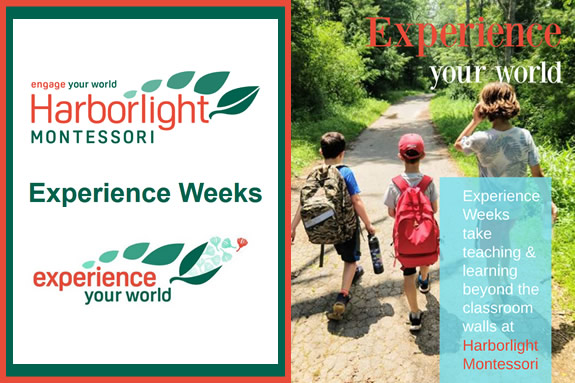 What are your 1st-8th grade children doing during school vacations?  Harborlight Montesorri invites them to join Harborlight's Experience Weeks.
Harborlight Montessori is excited to offer our new Experience Weeks to students from outside of our school community.  Experience Weeks are week-long courses offered during public and independent school vacation weeks for students in grades 1 to 8 who want to stretch themselves through exciting hands-on learning. 
They were designed to provide a rich balance of learning by doing, creating and making.  By moving beyond the walls of the classroom to local institutions and the natural landscape of the North Shore students will gain new, more in-depth ways to investigate, understand and learn.  Experience Weeks provide the time and the place for students to research questions, think critically, communicate effectively, work collaboratively, and master core academic content.
Experience Weeks are offered in February, March, April, and June.  They are located at and travel from Harborlight Montessori in Beverly, MA.
We have partnered with several local organizations, such as Gloucester Stage, Design and 3D printing with BlocksCAD, Ecosystem Studies, Geology, Revolutionaries in the Art World, and are thrilled to be offering a robust, exciting, and diverse selection of week-long experiences.
The six, five-day weeks coincide with both public and independent school calendars for 2020:
Week 1: February 17 through February 21
Week 2: March 9 through March 13
Week 3: March 16 through March 20
Week 4: April 20 through April 24
Week 5: June 15 through June 19
Week 6: June 22 through June 26
Please take some time to learn more about Harborlight's Experience Weeks at the link below.