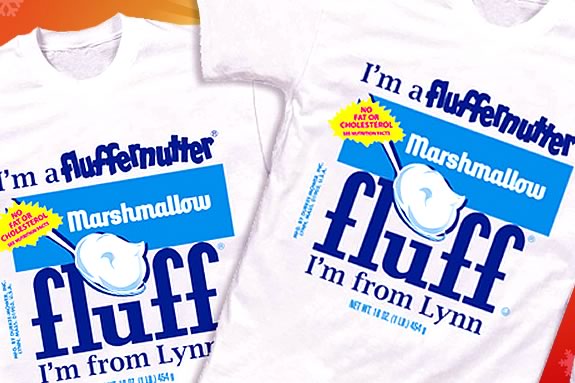 Fluff is a special treat in our house that we usually reserve for that wonderful combination of bread, peanut butter and fluff - aka the fluffernutter! What we never knew was that fluff is a product native to the North Shore and has been made in Lynn at the same factory since 1929.  Today, fluff is sold throughout the United States and the world and has a dedicated following.
Recently, I came across these T-Shirts while visiting the

Nonexistent node nid: 2514.
website, and ordered one for each member of the family!  The T-shirts are quality cotton Ts and the kids love them.
Apparently the shirts were designed by artist Isabel Van Merlin, with help from John Durkee, VP of Durkee-Mower (the manufacturers of Fluff).  In turn, Durkee has allowed the Lynn Museum to use the Fluff brand to sell these shirts and lot of other items with the Fluff brand for one year as a fundraising channel for the Museum.  So check out the shirts and buy them for the fluff fans in your life - you'll be giving a great gift, and helping a worthy cause!