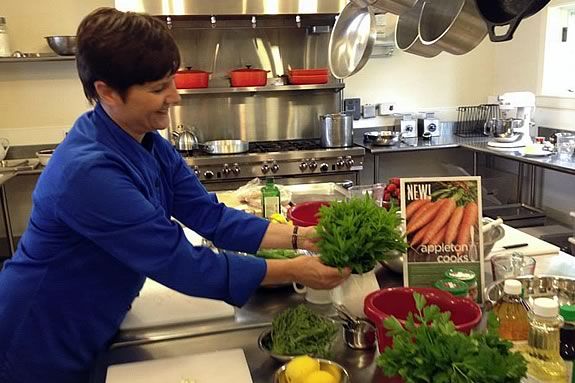 Spend a cozy evening with your sweetheart on the farm cooking up a delicious meal. Professional chef-instructor Carolyn Grieco will lead the class through the making of an intimate multi-course dinner in the state-of-the-art farm kitchen. Culinary tips and techniques will be covered as we prepare our dinner followed by a relaxing meal in the farmhouse dining room. Printed recipe booklet and indulgent chocolate take-treats to savor later! BYOB wine, champagne and beer is allowed.
Menu will be determined based on the seasonal food available the week of the dinner but will likely include some or all of the following:
Selection of Farmstead Crafted Cheeses
Pear & Prosciutto Tart with Arugula
Roasted Fish with Olives, Capers, & Herbs
Swiss Chard & Saffron Couscous
Old-Fashioned Bourbon-Butterscotch Pudding with Whipped Jersey Cream
**Take-Home Treats – Fig & Walnut Chocolate Truffles
This event is part of the Appleton Cooks! program. For more information about Appleton Cooks! and similar events please click here.
When:
Saturday, February 13, 2016 6-9PM
Prices:
Members: $85
Non-Members: $100