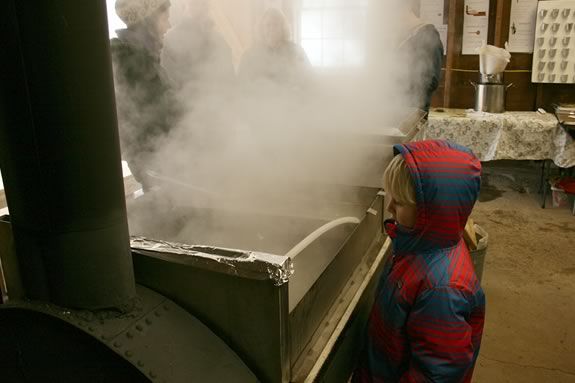 Spring is coming and the sap is running! Appleton Farms invites families experience the time-honored tradition of maple sugaring with Sugar Shack Saturdays at Appleton Farms. Spend the morning with us and see how we turn sap into sweet syrup. Start by getting creative with some maple themed crafts in the Appleton Old House then get outside and explore our very own sugar shack! Learn how we tap our trees every spring, see the evaporator in action, and taste the freshly made syrup.  We will end back inside with a farm snack, including Appleton Farms cheese, apple slices, and homemade maple ice cream while we read a story about maple sugaring!
Recommended for ages 8 and under but everyone is welcome!
Space is limited.
Registration is by the family- if you have 5 or more in your family, please register 2 families. 
Crafts and snacks included and we want to have enough for all.
When:
Saturdays, February 23 - March 9, 2019 10am-11:30am & 1:30-3pm
Prices:
Member Family: $24
Non-member Family: $30