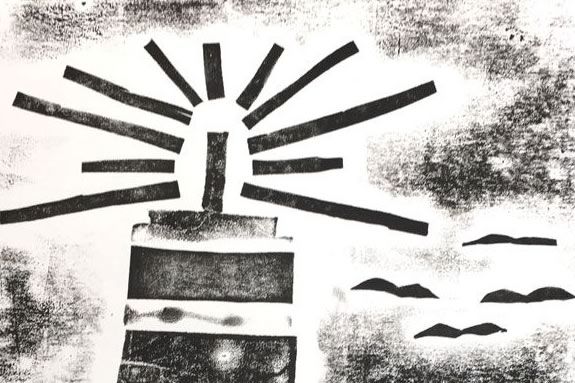 The Museum is free all day for Cape Ann residents on the second Saturday of every month in 2020! The second Saturday of every month is free for families with school-aged children. From 10am to 12pm, families are invited to tour the galleries or take a free workshop in the Activity Center. Each month has a different theme or special guest related to the art, history and culture of Cape Ann. Reservations required for workshops and events.
In February 2020, Cape Ann residents of all ages are invited to join meet Museum Educator Kendall Reynolds in the Museum's Maritime Gallery to learn about our First Order Fresnel Lens, installed in 1861 in one of the twin lighthouses on Rockport's Thacher Island. We'll read Hello Lighthouse by Sophie Blackall to learn about the importance of lighthouses to the fishing industry then we'll head down to the Activity Center to do a lighthouse print project using the collagraph printing technique.
Space is limited; registration required. Register online at Eventbrite or call (978)283-0455 x16. Free for Museum members, families with school-age children, Cape Ann residents or with Museum admission.
Upcoming Second Saturdays:
When:
Second Saturday Monthly 10am-12pm