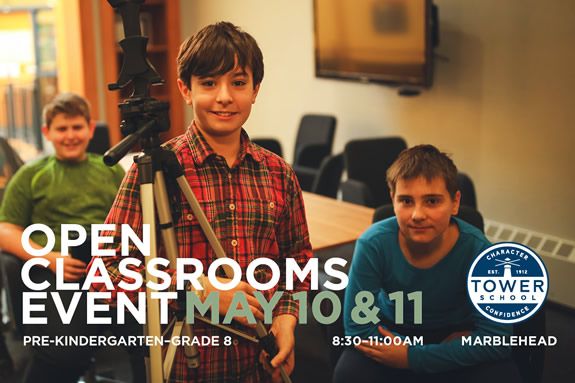 Tower students develop the skills to become critical thinkers, innovative problem solvers and collaborative leaders. Learn about our hands-on, interdisciplinary learning approach during an open classroom event, or call to schedule an appointment.
OPEN CLASSROOMS EVENT AT TOWER
MAY 10 & 11, 2017 | 8:30–11:00AM
8:30–9:30 AM CAMPUS TOURS, CLASSROOM VISITS
9:30–10:00 AM STUDENT PANEL DISCUSSION/Q & A
10:00–11:00 AM CAMPUS TOURS, CLASSROOM VISITS
75 West Shore Drive Marblehead MA 01945
PRE-KINDERGARTEN–GRADE 8
Ask about our Full-Day and Half-Day Pre-K, Full-Day Kindergarten, middle school athletics program, and school bus transportation options.
Director of Admission  Reagan Kenwell  781.631.5800  reagan.kenwell@towerscool.org
When:
May 10 & 11, 2017 | 8:30–11:00AM