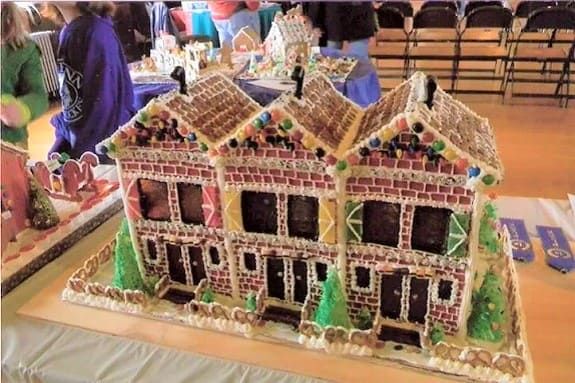 Everybody is invited to enter the Gingerbread Contest for the Middle Street Walk in Gloucester this year! Groups and individuals are encouraged to get creative and come up with entries that can take any shape.  All entries will be judged during the Middle Street walk with winners being announced at 1pm in Gloucester City Hall. 
Entries will be judged on:
For the degree of difficulty and creativity
Neatness
Originality
Uses of edible confections and decorations
Workmanship
Points will be taken away for use of plastics. However, you may use a limited amount
Rules and Guidelines
The contest is open to everyone.
Contestants may submit entries either individually, or as a group. More than one entry may be submitted
All entries must be made entirely of gingerbread and decorated with candy or other edible embellishments. Anything that appears on the house must be edible. Contestants may decorate their entry with non-edible figures, material, etc. However, these embellishments may not be connected to the house in any way. Everything that appears on, or is connected to, the house must be edible.
The gingerbread house submitted may take any shape, form or size. Creativity is encouraged and contestants should model their houses on places real or imaginary, basic or elaborate
Each entry must be submitted on a cardboard, wooden or plastic base. There is no standard size or shape for the bases although it must be larger than the house.
Entries must be dropped off at Kyrouz Auditorium in Gloucester's City Hall either Thursday, December 8th between the hours of 8:30 AM and 6:00 PM or on Friday, December 9th before Noon. There is an elevator in case you need it as the Auditorium is on the second floor.

Judging will occur prior to the start of the Middle Street Walk which begins at 10:00AM on Saturday, December 10.  Entries need to be picked up as soon as possible.                     Entries are not assured of safety while at City Hall.

Prize ribbons will be awarded in numerous categories as stated on the entry form.  A special "Best of Show" award plate will be awarded this year.  Please make sure you enter your contact information!
Please let us know if you are planning to submit a gingerbread house by registering over the phone to either of the following contacts: Barbara Catalini of Cakes by Barbara at 978-281-0639 or Jan Bell at 978- 283-1107, or Gloria Parsons at 978-283-9292.  Or email schtruant@verizon.net
Check out the Middle Street Walk Facebook page for updating information!!
When:
Saturday, December 10, 2022 10am - 3pm