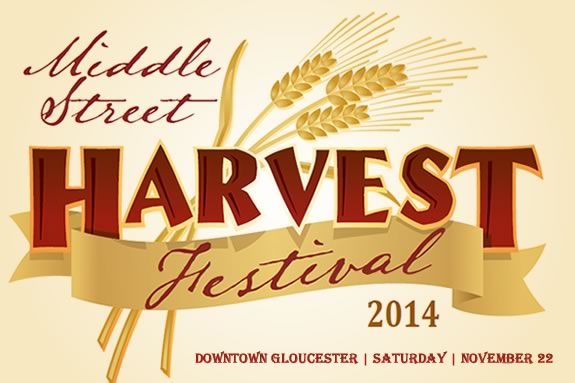 There's a lot going during the Harvest Festival on Middle Street in Gloucester!  Come to the Middle Street Harvest Festival for live music, museum tours, the Thanksgiving Cape Ann Farmers Market, a craft fair and chowder luncheon, story time and crafts for the kids, tours of the Gloucester Fire Station and more! A benefit concert will take place to raise funds for the Grace Center at Trinity Congregational Church of Gloucester.  The Middle Street Harvest Festival is sponsored by Bank Gloucester and other local businesses.
Middle Street Harvest Festival Schedule:
Annual Country Cupboard Fair

Saint John's Episcopal Church - 9:00 am - 2:00 pm
Baked Goods
Homemade Crafts
Fish Chowder Luncheon
Cookie Walk
Jewelry
Artisan Cheese
Silent Auction
Apple Cider
Thrift store open
Raffle

Cape Ann Thanksgiving Harvest Market

Over 20 local food vendors with fresh produce, jams, baked goods, crafts, meats & more for the Thanksgiving Table.

'Grace Center' Benefit Concert

"Share the Music" Choral Group

Sargent House Harvest Fest 10am - 2pm

49 Middle Street
Open for tours & historical presentations

Sawyer Free Library
Cape Ann YMCA 9am-2pm

71 Middle Street
FREE Community Wellness Day

The Hive: Art Haven's Community Center 12-2pm

11 Pleasant Street
"Gloucester Through My Lens" Exhibit
Light Refreshments

Cape Ann Museum 12:30 & 1:30 pm

27 Pleasant Street
Docent Led Tours

Gloucester Firehouse 10am & 12 pm

8 School Street
Learn about firefighting history and check out the latest in fire fighting equipment!
When:
Saturday, November 22, 2014 9am-4pm