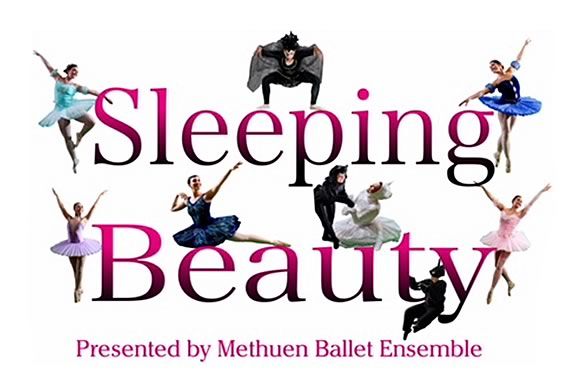 Methuen Ballet Ensemble will present their interpretation of Sleeping Beauty, a tale of a young princess who cucceumbs to black magic, and the prince who saved her. As the ballet begins, the baby Princess Aurora has just been christened and the King and Queen have declared a grand celebration. Six fairies have been invited to the celebration to bestow gifts of virtue upon the child. The evil Carabosse, furious that she was not invited to the celebration, storms in and curses the baby! 
According to the curse, on Princess Aurora's 16th birthday, she will prick her finger on a spindle and die. The King and Queen are devastated but the Lilac Fairy weakens the curse. Instead of dying, Princess Aurora will fall into a deep sleep for 100 years. At the end of the 100 years, she will be awakened by a kiss from a handsome Prince named Desire. Come celebrate with Puss n' Boots, the White Cat, Little Red Riding Hood, the Wolf and the Bluebird.
The Ensemble is excited to welcome two very special guest principal dancers to this production, Petra Conti and Eris Nezha. Petra Conti, formerly of La Scala Ballet Company and the Boston Ballet is an internationally famed prima ballerina. Most recently, she performed the principal roles of Odette and Odile at the Kiev National Opera and is a resident guest principal ballerina with the Los Angeles Ballet. Eris Nezha is currently a principal dancer with the Boston Ballet. Prior to joining Boston Ballet, he was a principal dancer with La Scala Ballet Company. Nezha has performed leading roles as a principal guest artist with Berlin Staatsballett, Zagreb HNK, Tirana Opera House, Opera di Roma, Arena di Verona, and Teatro San Garlo, among others.
When:
Sunday, April 29, 2018 1pm