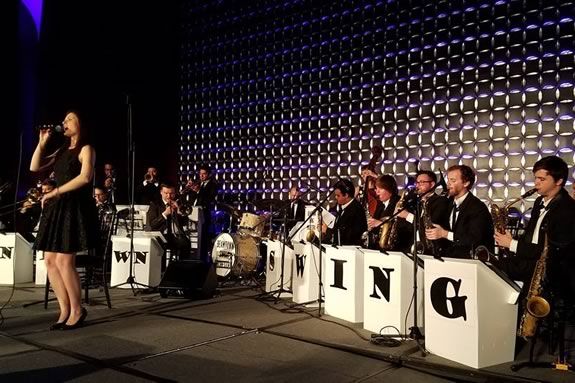 Jazz is alive and kicking up its heels in Ipswich when the whole town is invited to participate in an evening of big band swing music and dance at the Dolan Performing Arts Center. Ipswich Music Art and Drama Association has arranged with Beantown Swing, the premier swing orchestra on the north shore, to spend a day giving jazz master classes at the high school, followed by a joint concert in the evening. This will be more than just a concert! The orchestra pit will be turned into a dance floor for the evening while the band plays on the stage above.
The evening's festivities begin at 6:45 with professional swing dance instructors available to teach anyone from beginners on up. The Ipswich Middle School Jazz Band starts at 7:30, followed by the High School's Jazz Band at 7:45. At 8:00 Beantown Swing Orchestra will take the stage.
The concert is open to the public. Tickets are are available at the door. There is no extra charge for dance lessons!
Thanks to a generous grant from Institution for Savings, all proceeds from the concert will go towards IMADA's efforts to support the arts in our schools. IMADA is grateful to Institution for Savings for sponsoring this event!
Beantown Swing Orchestra represents the future of big band swing music. Specializing in the performance of Swing Era classics as well as songs custom arranged for big band, its mission is to bring big band music back into the mainstream for current and future generations to enjoy. Now in its eleventh year, the Beantown Swing pursues the goal of engaging, entertaining, and educating audiences with this historically significant and sophisticated form of American music.
When:
Friday, February 10, 2017 7:30pm
FREE Swing Dance Lessons Start at 6:45pm!
Prices:
Adults: $10
Students & Members: $5
Proceeds benefit IMADA Scholarships and Programs