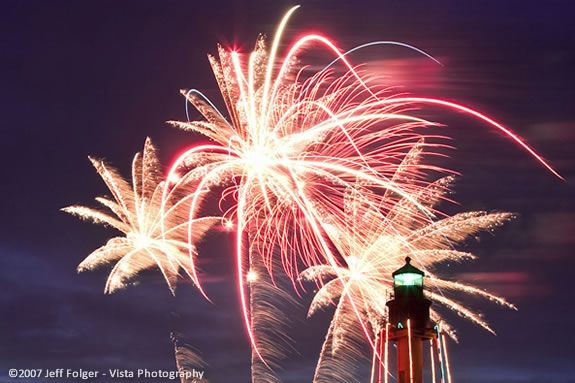 Independence Day in Marblehead is an all-day event on the harbor front that begins at 10am with the Horribles Parade, composed of unusual and sometimes opinioned home-made floats, music, and other parading favorites. For the rest of the day, the waterfront is lively with music, food, and family activities. The day ends with the Harbor Illumination and Fireworks.
At 8:45 a signal alerts everyone to the lighting of flares around the entire harbor front. Fireworks, launched from barges at the mouth of the harbor, begin at or around 9:15pm. The best places for viewing are from your own lawn chair or a picnic blanket at Chandler Hovey Park, Crocker Park , or Fort Sewell, or from a boat in the harbor.
See Jeff Folger's (VistaPhotography) slideshow of Marblehead fireworks: Click here.
In addition to the fireworks, the annual Marblehead Festival of Arts will be held over the weekend. The festival includes several art exhibits, outdoor music concerts near Marblehead Harbor, a film festival, a writers' festival, a street festival, a children's festival, a kite festival, a model boat regatta and many other cultural activities for families.
The festival events runs all weekend long through July 4 at venues throughout Marblehead.
When:
Sunday, July 4, 2022 beginning at 10am