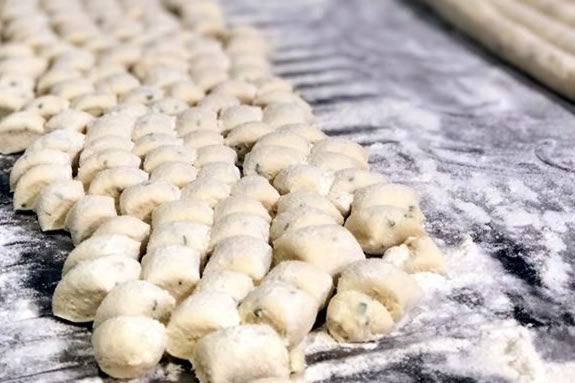 Skip the pasta machine and get ready to use your hands to create orecchiette (little ears), cavatelli (dimpled pasta) and more with Chef Emily! This simple pasta dough has just three ingredients, and is easily shaped by both big and little hands. Parents and kids will work together to mix and knead their dough, shape the noodles, then share a delicious meal using local produce and meats from Appleton Farms. Chef Emily will use the finished pasta to demo an easy seasonal recipe and everyone will have time at the end to eat.
Winter menu: Orecchiette with Brown Butter, Butternut Squash, Pork Sausage and Sage. Does not contain eggs. This dish can be made vegetarian or vegan.
Attendees MUST purchase a ticket to attend this class. Each child MUST be accompanied by at least one adult; and adults are not allowed without kids. This class is appropriate for ages 6 and up.
It is recommended that your sign up far in advance because this popular class will sell out! Please notify us of any allergies or food preferences within 1 week of the class date and we will try to accommodate them as best we can. Any questions or preferences please reach out to appletonfarms@thetrustees.org.
Our hands-on cooking classes are structured as a group learning experience; you'll work with other families to create a seasonal meal led by our professional chef instructors. We focus on learning new cooking styles and techniques to increase your confidence and enjoyment in your own kitchen. Here are a few things to know before booking a class with us:
Each class is centered on local, seasonal farmers, so menus may change slightly based on what's available the day of the event.
Please be prepared to be on your feet, standing at a table, and cooking for the duration of class.
We recommend comfortable, non-slip, and closed-toe shoes.
When:
Saturday, March 28, 2020 10:30am-12:30pm
Prices:
TTOR Members: Adult: $44; Child: $9
Non-Members: Adult: $55; Child: $15