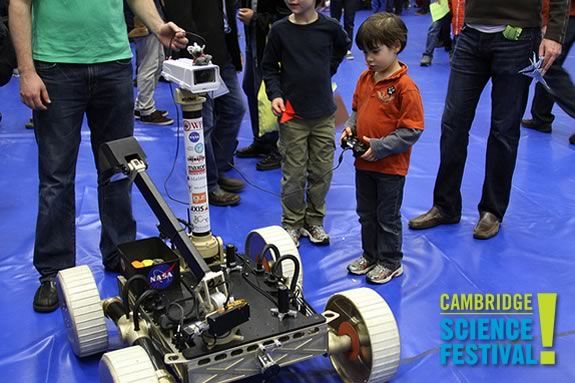 Cambridge Science Festival 2020 hosts their annual Science Carnival at the Cambridge Public Library during April Vacation! See, touch, smell, hear, and taste science in new and exciting ways, and celebrate the kickoff of the Cambridge Science Festival 2020 at Noon! There are so many events for each theme that its best to check with the links below to see the ever growing list of participants and great activities, some of which include:
Lots of Robotics
Live Music
Oceanography
LEGO STEAM Activities
Space Suit Design
Liquid Nitrogen Fun
Microbial Fossils
Aerodynamics with Kites
Dinosaur Footprints found in Massachusetts
IBM's Watson
Radio Astronomy
Drones
Hands-on STEM activities
Bridge Building Challenge
And More!
Come for a day of fun and hands-on learning experiences that will be sure to leave the troops smiling!
When:
Saturday, April 16, 2016 Noon-4:00pm