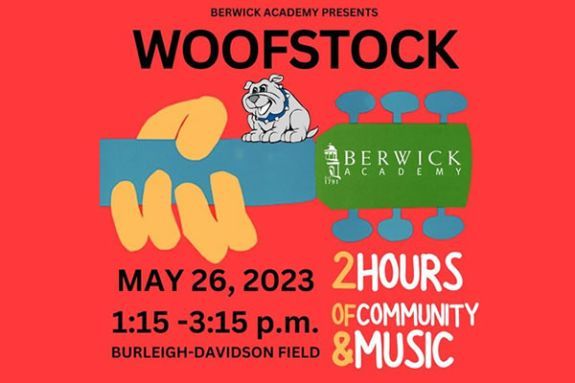 Spring Admission Sneak Peek | Friday, May 26
If you're curious about Berwick Academy it is never too early (or too late!) to see the campus and experience our community. Join us for our Spring Admission Sneak Peek on Friday, May 26 when we will be offering tours at 1:15 p.m. during our student-run outdoor concert, Woofstock.
Berwick Academy is a Pre-Kindergarten through grade 12 independent school in southern Maine.
We offer 6 bus routes including stops in Newburyport and West Newbury, MA. Many of our 600+ students come from the North Shore of Massachusetts.
Visit our website for more info or to RSVP online:
https://www.berwickacademy.org/admission/request-information
It's never too early (or too late) to look and learn more. Come experience our community in action by touring campus.
This is a great opportunity to see our campus, experience our community, and learn about our programs.
Contact Admissions at 207.384.6301 or admissions@berwickacademy.org for more information.
Berwick Academy is a leading academic institution preparing students from Pre-K to grade 12 to find their passions. Our innovative approach to student-directed learning which is both rigorous and balanced, ensures that students come to school each day engaged in their academic, arts, and athletics opportunities.
Our PK-4 Lower School promotes the joy of learning from a very young age. Lower Schoolers are exposed to the Mandarin and Spanish languages and cultures from age 3, are able to explore coding and robotics in technology and science classes and create a sense of self through Yoga 4 Classrooms within their homeroom experience. Our youngest students are exposed to a balanced education from the very beginning, and a strong emphasis on character education is instilled on a daily basis.
Our grade 5-8 Middle School promotes a culture where students can take risks to learn and grow, be it through performance, delving into a world language, trying a new sport, building something in the Makerspace, or examining an issue from a new perspective, all the while feeling confident that they will be celebrated for taking that risk and supported if they encounter challenges along the way.
Our grade 9-12 Upper School provides a college prep experience that allows students to stand out in the college process and find their passions. Our competitive athletics and arts programs allow students to go on to meaningful college experiences in their sport or art of choice. Innovative approaches to teaching and learning make the overall Berwick experience both challenging and unique.
When:
Friday, May 26 beginning at 1:15 PM