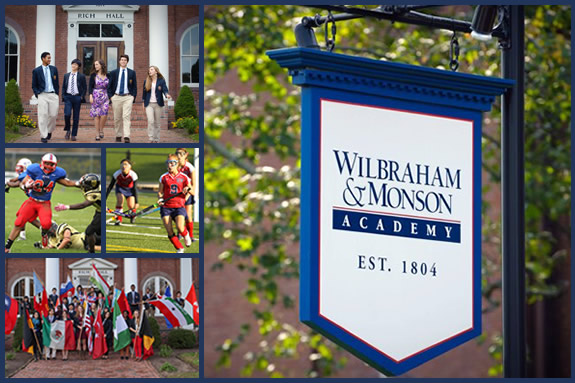 About Wilbraham & Monson Academy:
For over 200 years, Wilbraham & Monson Academy has been a step ahead. From the enrollment of our first international students in the early 1800s to our current Center for Entrepreneurial and Global Studies and our Global Scholars programs.
Wilbraham; Monson Academy was established by the merger of two early nineteenth-century academies: Monson Academy, founded in 1804, in Monson, Massachusetts, and Wesleyan Academy, founded in 1817 in New Market, New Hampshire. Wesleyan Academy moved to Wilbraham in 1825, and became Wilbraham Academy in 1912. Wilbraham Academy and Monson Academy merged in 1971. A tradition of acceptance and diversity dates back to the founding of the two academies. Wesleyan Academy was the first coeducational boarding school in the country, and in 1847 Monson Academy became the first American school to enroll Chinese students. Soon afterward, students from Thailand began to attend Wilbraham Academy. Alumni Memorial Chapel was part of the Underground Railroad and the Academy has enrolled students of color since before the Civil War.
Location
Willbraham & Monson Academy
Wilbraham,
MA
01095
Coordinates: 42° 7' 31.116" N, 72° 26' 26.052" W