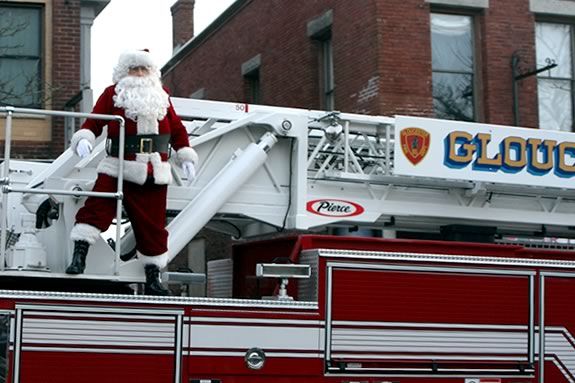 Gloucester's Holiday Parade is a great tradition to kick off the holidays! Come enjoy the parade, Santa, and the tree lighting at Kent Circle!  Volunteers will line up parade participants at the State Fish Pier on Parker Street at 2:00 PM and will guide them through downtown Gloucester and on to Kent Circle for the Annual Tree Lighting Ceremony.
As part of the parade, Santa Claus arrives in Gloucester for the holiday season. At Kent Circle, children will have the opportunity to sit on Santa's lap – a great photo opportunity for parents. And – as in the past – while folks are at Kent Circle, they are invited to sign holiday cards that will be sent to our troops overseas.  Donations to pay for postage will be greatly appreciated! Free Popcorn and cocoa will be available too!
This year's Kent Circle Tree Lighting ceremony starts around 4:30pm  Along with the Parade, the tree celebrates Gloucester's close ties to Shelburne, Nova Scotia that each year provides a tree to be lit.
When:
Sunday, December 4, 2022 3pm
Parade participants line up at 2pm on the State Fish Pier