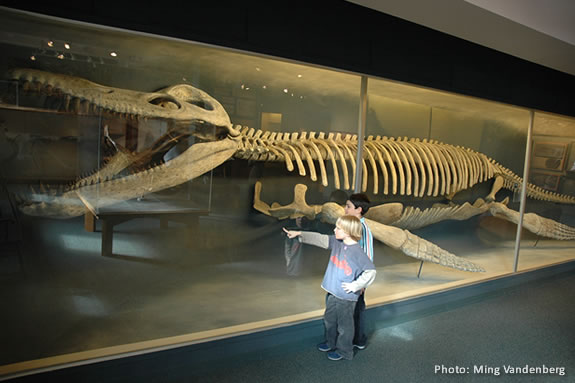 Are you involved in afterschool school or community organizations? This is a great idea for a FREE afternoon outing that will bring your group to the heart of Cambridge, Massachusetts to experience one of the true treasures of the Boston area - the Harvard Museum of Natural History! Groups are encouraged to come to the museum on Wednesdays between 1-5pm to explore the natural history of our planet and have hands on experiences with our collective past!
Discovery Guides will be available to escort you on a tour of the museum galleries that would include:
A 1,600-pound amethyst geode from Brazil
The world's only mounted Kronosaurus, a 42-foot-long prehistoric marine reptile
The Goliath beetle, largest beetle on Earth
The 6 million-year-old shell of Stupendymus geographicus, the "astonishing turtle," over seven feet long
Hands on activities encourage participants to handle museum specimens, which will lead to a better understanding of how scientists learn about the world that is and the the world that was!
Gallery Activities are designed to engage kids by encouraging exploration and following their own curiostiy.  Activities are divided in age brackets and include:
Forest Explorers (Pre-K, Kindergarten) teaches young children about the forest habitat and the creatures that live there
Museum Safaris (Pre-K, Kindergarten, 1st Grade) encourage kids to explore the museum with short activities that last 10-30 minutes
Animal Detectives (Grades 1-6) will hone observation skills by comparative analysis of different animals
Gallery Games (Grades 1-6) will allow kids to get up close and personal with objects found in the exhibits throughout the museum and encourages them to think and develop memory skills.
Mineral Hall Activities (Grades 2-5) teaches children about rocks, minerals, and the processes that create them. Cans can handle and see gems, minerals and even meteorites!
Animal Trackers (Grades 3-5) challenges kids to use their skills of observation and comparison to identify tracks left behind by animals that are common to New England.
Evolution Exploration (Grades 6-8) students will develop their understanding of the magnitude of time, and explore many of the concepts that are part of evolution like adaptation, extinction and co-evolution.
Repeat visits are actually encouraged due to the sheer volume of material available to the kids during each visit.  Groups can range in size from 10 to 30 students with an ideal adult to children ration of 1:5. 
Reservations are required and space is limited.  Use the link to find out more information regarding scheduling and booking!