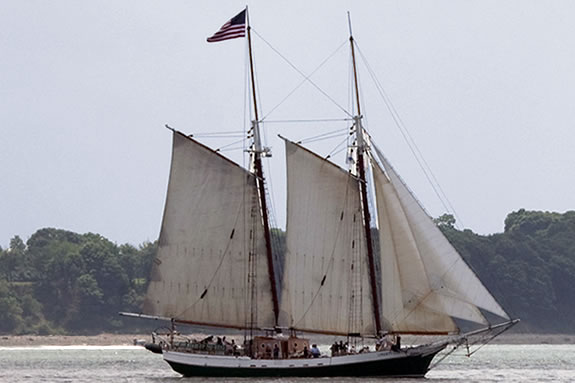 A fun outing on the water! Take an afternoon sail aboard the Liberty Clipper and relive the days of Boston's Tall Ships. Take the wheel, set the sails, or just sit back and enjoy the sights and beauty of Boston Harbor and her islands!
Daily Sails in Boston Harbor aboard the 125-foot Tall Ship SCHOONER LIBERTY CLIPPER
May through September
NOON SAIL 12:00pm - 2:00pm
AFTERNOON SAIL 3:00pm - 5:00pm
SUNSET SAIL 6:00pm - 8:00pm
The Liberty Classroom is a program that offers local youth groups the rare chance to sail as student trainees on a three hour educational sail aboard the 125-foot Schooner Liberty Clipper. Groups will have the chance to learn from and work with the crew to sail this majestic ship!
Sailing the waters of Boston Harbor from Historic Long Wharf, the Liberty Classroom provides an introduction to seamanship (basics) under the direction of an experienced captain and crew. Participants will be provided instruction followed by hands-on training for the application of acquired skills. The Liberty Classroom provides a safe and enjoyable experience where teamwork and leadership skills are developed.
Liberty Classroom uses the Logbook of the American Sail Training Association. Students are familiarized with safety, navigation and seagoing skills. They will learn to read charts, tend sails and generally acquire the skills necessary to participate in the operation of a large sailing vessel. Included in the training are maritime topics of interest such as the unique features of Boston Harbor and the Boston Harbor Islands. The crew will also share nautical heritage and history.