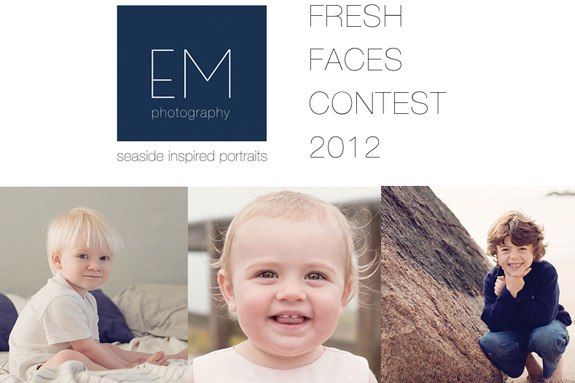 Esther Mathieu Photography is looking for fresh faces!
Let's kick off the new year with the chance to win an hour long portrait session for one child or teenager as well as a new favorite product this year…a 20×20 collage standout!!!
A value of $275!
How to enter
Email a recent photograph of your child or teenager to info@esthermathieu.com before January 14th at midnight. Include the following in your e-mail: name and age of child as well as your contact information(which will be kept private).
The rules
Only customers who have never booked with Esther Mathieu photography may enter.
You must be a fan of Esther Mathieu Photography on Facebook to enter.
Only snapshots may be entered – no professional photos. By entering, you are agreeing that you have permission to use the photograph you are submitting.
Children ages 6 months-17 years old may enter.
The photo session (prize) may include up to three siblings. Siblings must be entered separately. Votes will not be combined.
A signed model release will be required to receive prize.
You have until June 2012 to redeem your prize. You must book with Esther Mathieu Photography within 3 weeks of being named the winner. Prize may not be redeemed for cash value.
Your session may take place up to 25 miles from zipcode 01966.
You must be the parent or legal guardian of the child you are entering into the contest. Teenagers over 16 may enter themselves.
At least 10 entries MUST be submitted in order for the contest to run.
By emailing the photo and entering the contest, you agree to all the terms above.
Voting
Get all your friends, family and co-workers to vote for your picture!
Voting will start on January 15th and end January 22nd at midnight. To vote, you must be a fan of Esther Mathieu Photography on Facebook.
An album and more details will be added to the Esther Mathieu Photography Facebook page on January 15th. All participants will be e-mailed as soon as voting begins.
The photo with the most votes will be deemed the winner. Esther Mathieu Photography will verify that all "likes" of the winning photo come from Esther Mathieu Photography Facebook fans.  "Likes" from non-fans will not be counted.