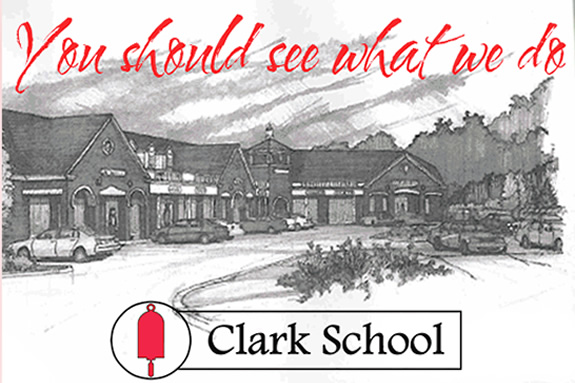 Clark School, a private independent school founded in 1978, is moving from Danvers to Rowley, Massachusetts.  Clark was founded on the idea that not all students are the same types of learners. Over the years the demand for the individualized approach to education offered at Clark School has steadily increased and the school has grown to where it is now – serving more than 140 students from all over Boston's North Shore and Metro West, in Kindergarten through grade twelve.
Clark School's new space, located at 14 Forest Ridge Drive in Rowley, is substantially larger than the current Danvers location. It has more than 20 acres available for use, and nearly double the square footage in classroom space. Additionally, the new location will have dedicated art and science classrooms, an increase in available parking, a full-sized sports field, and access to acres of conservation land for hiking, picnics, outdoor science and art instruction, and more.
"I am very excited about the move to the new location," said Jeff Clark, Head of School. "It will provide opportunities for our students that we can't currently offer and will allow us to grow and meet the demands of our families, all while maintaining the Clark School educational philosophy."
Different student style, different teacher approaches.
Clark School challenges students to develop their full academic and social potential by emboldening their strengths and equipping them with ways to overcome their challenges. Our curriculum nurtures a student's ability to think critically, intellectually question theories and principles, and find meaningful connections between what is being studied in the classroom and the world around them.  Clark teachers instill an innate love of learning by helping students recognize the way they learn best, and then tailoring the curriculum to students' individual learning style. 
It's not just about academics.
Being well-rounded means trying new things, meeting new people and discovering what is possible. We teach self-advocacy and create critical, resilient thinkers who are ready to navigate life after Clark.
Clark School invites students to discover who they are while they pursue academic excellence.
Interested in learning more? Clark School has limited spots available for the 2014--2015 school year. Call us today to discover more about how we are creating tomorrow's leaders.
Head of School: Jeff Clark
Director of Admission: Maritza Smith
Current Address: 487 Locust Street, Danvers, MA 01983
Future Address: 14 Forest Ridge Drive, Rowley, MA 01969
Phone: 978-777-4699
Fax: 978-777-7116
clarkschool.com
Enjoy this story about Clark School from the Salem Evening News.