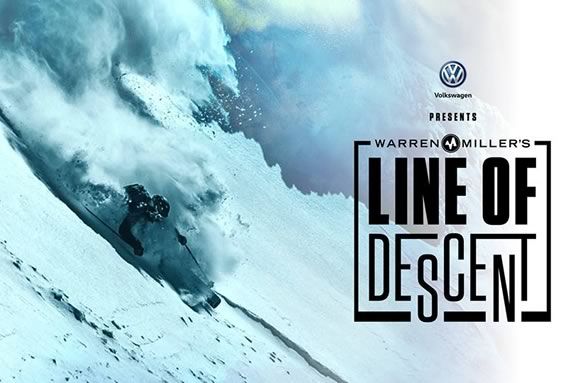 Come to the Firehouse center for the Arts for a showing of the latest Warren Miller Masterpiece!  Since 1949, ski families have cheered the official kickoff of winter with the ski film company that started it all. As the family grows, the traditions grow richer.  The annual tradition is back to salute the start of winter. The world's biggest name in snowsports cinema—Warren Miller Entertainment—celebrates its 68th ski and snowboard film with downhill thrills, global adventure and a nod to those that taught us to slide on snow.
Free SWAG comes with each ticket purchased, including:
FREE LIFT TICKET TO SUGARBUSH! Valid Monday through Friday from Opening Day 2017 through Closing Day 2018, EXCEPT FOR 12/23/17 through 1/01/18, 1/13/18 through 1/15/18, AND 2/17/18 through 2/25/18. Not valid with any other offers. No refunds. Non-transferable. Ticket must be loaded onto a reloadable Sugarbush RFID card. If you do not already have a Sugarbush RFID card, one may be purchased for $5.
 Line of Descent Trailer
Snow riders are a family—one big tribe comprising of many smaller ones. Familial rites pass down through generations. Skier roots grow deep in high mountain soil. Line of Descent celebrates just that, the lineage of legendary athletes through a multi-generational cast of skiing's icons and fresh faces, including Tommy Moe, Jonny Moseley, JT Holmes, Lexi duPont, Seth Wescott, Kalen Thorien, Marcus Caston, Jeremy Jensen, Griffin Post, and more.
Ride along on a stunning cinematic journey as we travel near and far, descending some of North America's deepest lines in Jackson Hole, Montana, Silverton, Squaw Valley Alpine Meadows, and Steamboat. From powsurfing to splitboard, motorcycle, dogsled or snowmobile, watch as athletes chase winter along the Beartooth Pass, the French Alps, New Zealand, British Columbia, and Norway.
Featured Athletes
Scotty Arnold | Jeremy Jensen | Neil Provo | Ian Provo | Jonny Moseley | JT Holmes | Errol Kerr Ty Peterson | George Rodney | Arielle Gold | Taylor Gold | Lexi duPont | Amie Engerbretson McKenna Peterson | Tyler Ceccanti | Collin Collins | Julian Carr | Keith Curtis | Kalen Thorien Michael "Bird" Shaffer | Seth Wescott | Rob Kingwill | Kevin Giffin | Marcus Caston | Kaylin Richardson Linda Haaland | Tommy Moe | Jess McMillan | Griffin Post
Film Destinations
British Columbia | California | Colorado | France | Montana | New Zealand | Norway | Wyoming About Warren Miller Entertainment
Warren Miller Entertainment has been a pioneer in action sports cinematography since 1949. Line of Descent marks the 68th installment of its expansive feature film library. Warren Miller Entertainment is a division of Active Interest Media based in Boulder, Colorado. One of the world's largest enthusiast media companies, Active Interest Media (aimmedia.com) produces leading consumer and trade events, websites, magazines, and films and TV shows that reach 40 million readers, fans, and attendees in 85 countries.
Follow along behind-the-scenes at warrenmiller.com
When:
Saturday, January 6, 2018 3pm & 7pm
Prices:
Non-Members: $13
Members: $10