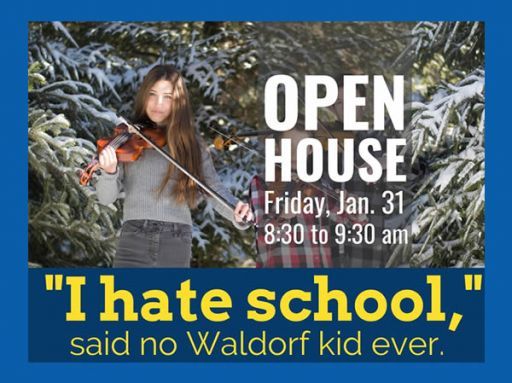 Waldorf schools have a holistic view of education — that is, we recognize that people are not just their "heads"; they have "hearts" and "hands" as well. Waldorf education is designed to resonate with a child's social, emotional, physical and intellectual development.  We work to bring these aspects of each child into harmony and balance.
Children flourish when their whole selves are acknowledged and nurtured. Then, in adolescence they can draw on inner strength and security to navigate new terrain in their education and in their lives. Each year, this result is evidenced by the poise, confidence, enthusiasm and courage of our graduating class.
See what makes Waldorf education unique, and how this time-tested approach to education promotes a learning environment that allows for self-discovery, creative problem solving, and high achievement.
Let us know you are coming
Please RSVP to Coleen Ryan at Admissions@waldorfmoraine.org.
We look forward to seeing you.
About Waldorf School at Moraine Farm
Waldorf School at Moraine Farm is one of 121 Waldorf schools in the United States and nearly 1,000 Waldorf schools worldwide. Waldorf School at Moraine Farm is an independent, non-profit school founded in 1986. The school is located on ten acres of the historic Moraine Farm property in Beverly. It serves approximately 100 students from pre-kindergarten through middle school. The school has an open enrollment admissions process. 
The mission of Waldorf School at Moraine Farm is to help students discover and develop their individual capacities and build self-confidence, so that they can fully engage in the world and contribute meaningfully to society.
When:
Friday, January 31, 2020 from 8:30 am to 9:30 am