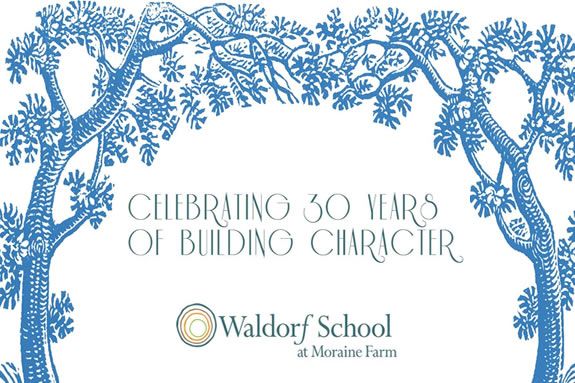 Waldorf School at Moraine Farm Celebrates 30 Years of Building Character. Honorary Chairman Congressman Seth Moulton and Board of Trustees cordially invite you to join in the fun for the 30th Anniversary Spring Soiree. Atendees will enjoy a night of celebration with dinner by Bonne Bouche Catering, Dessert from Pure Pastry Desserts and dancing with a ten piece Swing Band.
Please purchase tickets online via Eventbrite or drop off a check with Mrs. Deveau with the names of the attendees in the notes.
$50 per person (2 complimentary drinks followed by cash bar)
RSVP by May 8. Price goes up to $60 May 9.
Can't make it? You can still make a gift to Waldorf School at Moraine Farm.
Donate Securely Online (https://www.razoo.com/story/Waldorf-School-At-Moraine-Farm)
This year is a celebration of the past and future of Waldorf School at Moraine Farm through curriculum support and program enhancements made possible through your generous donations. Thank you for your contributions.
Please consider being a 30th Anniversary Spring Soirée Sponsors at one of the following levels:
Visionary $5,000
Innovator $2,500
Designer $1,000
Thinker $500
Maker $250
If you would like to be a sponsor, please contact Jane Walsh at developmentoffice@waldorfmoraine.org.
On behalf of the Development Committee, a sincere and special thanks for your support of our school and your potential participation in this upcoming event, and please share this invitation with friends and family!
When:
Saturday, May 20, 2017 from 6-10 PM