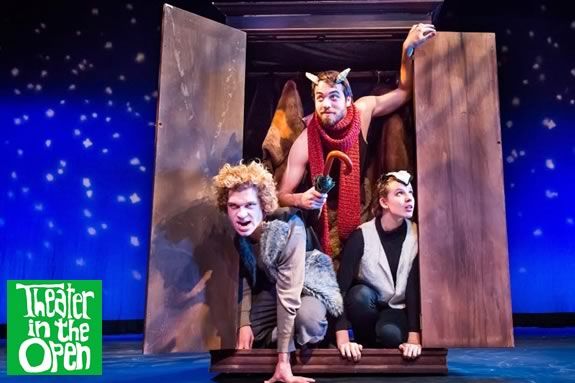 Edward Speck and Joshua Shack bring back a favorite Theater in the Open holiday panto, Through the Wardrobe! Fauns and turkish delight and pies-in-the-face return to the Firehouse Center for the Arts! Why? Because it's panto time silly! Will our heroes survive their adventures in the wardrobe? Will good triumph over evil? Will someone throw balled-up socks at you? Yes, yes, and DEFINITELY.  See you for another holiday panto this December!
Tiny Tim's Cans and Coats Drive
Audience members of Theater in the Open's "Through the Wardrobe: A Winter Wonderland Panto!" are encouraged to bring toiletries, canned soups, or coats to the show - one of the characters in the show will come through the audience and collect them for The Pettengill House in Salisbury!
Here are some suggested "Most Needed" items for the food pantry that are frequently in short supply: * Children's healthy snacks – Some examples include Nutri-bars, kid's fruit snacks, kid's healthy fruit cups, granola breakfast bars, etc. * Another category needy families are always in need of are toiletries. Needless to say, all the regular personal care items we take for granted such as toilet paper, toothpaste, toothbrushes, soap, body wash, shampoo, deodorant, etc. The Pettengill House serves so many families with small children, diapers are always a big need (especially the larger sizes 4, 5, 6 and pull-ups) along with baby wipes. Some other items include facial tissue, paper towels, laundry soap, dish soap, plastic utensils, paper plates, cups, can openers.
When:
Fridays, December 9 & 16, 2022 5 & 7 pm
Saturdays, December 10 & 17, 2022 3 & 7pm
Sundays, December 11 & 18 , 2022 3 pm
Prices:
Adults: $18
Members, Students & Seniors: $14