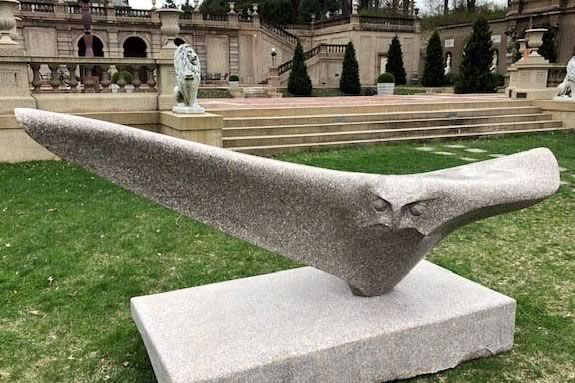 The Trustees and New England Sculptors Association are partnering to present a 6-month outdoor sculpture exhibition at Castle Hill on the Crane Estate located at 290 Argilla Road in Ipswich. The "Spirit of Place" exhibition includes 32 pieces created by New England's finest sculptors and placed in gardens, along woodland paths and alongside historic landscape features. This curated show opens May 18 and closes on November 11, 2019.
The opening, 12Noon–3PM on Saturday, May 18, is part of The Trustees' Home Sweet Home, a free annual event celebrating the architects and craftspeople who designed and built its historic properties. Participating sculptors will be on-site during the afternoon to greet visitors and talk about their creations.
The exhibition is free with regular property admission (Trustees Members: FREE; nonmembers: $15/car). During the May 18 opening, property admission will be free to all. A free, self-guided tour exhibition program is available at the gate and in the Great House on house tour days (Tuesday – Sunday, May 18 - October 27, and weekends and holidays, October 28 - November 11). Please note that sculptures in certain areas of the property may be inaccessible during certain public and private events during the year.
The New England Sculptors Association (NESA) was founded in 1948 and is one of the leading sculpture organizations in the country. Its juried members work in a variety of media including stone, metal, wood, glass, clay, fiber, and recycled objects. NESA sponsors and collaborates with partners to co-sponsor exhibitions, workshops, and events that advance the understanding and appreciation of sculpture. Learn more at nesculptors.org.
When:
Daily, May 18 - November 11, 2019 11-11:45am