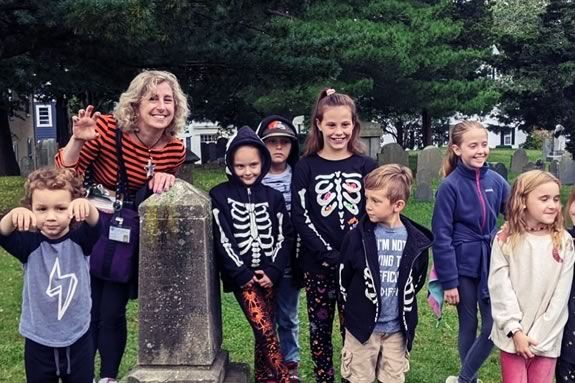 This tour combines true tales from Salem's past with some mild ghost stories just for kids.  Our aim is not to scare the heck out of your kids, but to provide a little shiver and bit of mystery for kids who like ghost stories.  This tour follows a route that is near the downtown, but it's a little off the beaten path, very picturesque, and you'll feel as if you stepped back in time.  The tour ends at our historic and creepy Broad Street Cemetery, which was established in 1655.  Meets at 316 Essex Street.
One hour outdoor walking tour
Stories and tales that the kids love to hear. All tours are lead by teachers or graduate students and make the tour fun and captivating.
Find out about Witch Trials, Salem Golden Age of Sail, Salem's connection to the Revolution, and more!
Ages 5+
Reserve your tickets online.
Owner Alicia Diozzi is a local 6th grade social studies teacher with a background in drama. She saw a need for a Salem tour that was educational, accurate and fun just for kids and families.
When:
Saturday, April 23, 2022 10am or 5pm
Saturdays through May and June 2022 Times Vary