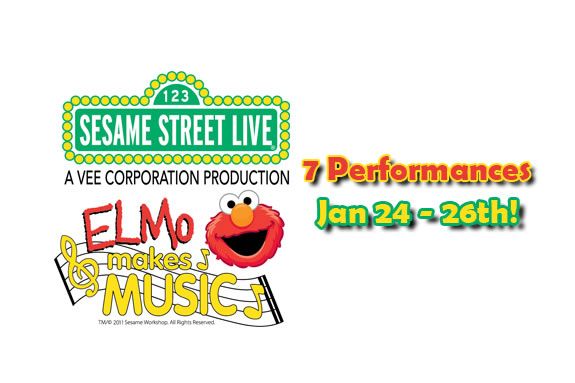 Sesame Street Live "Elmo Makes Music" Is Back By Popular Demand!
Mark your calendar for a musical event like no other-monsters making music! Elmo, Abby Cadabby, Big Bird and all their Sesame Street friends are taking to the stage to share their love of music in Sesame Street Live "Elmo Makes Music."
Jenny, an enthusiastic new music teacher, arrives on Sesame Street only to discover that her instruments are missing. Jenny's new Muppet friends quickly come to the rescue and discover 'instruments' they never knew existed...rubber duckies, trash can lids and even cookie jars. Elmo and friends teach children that everyone can make and enjoy beautiful music together.
Adults will hear music they'll recognize and enjoy sharing with children, such as "The Hustle," "You Should Be Dancing" and "Rockin' Robin." "Elmo Makes Music" features nearly two dozen songs, including classics that children will love to sing along with such as "C Is for Cookie" and "The Alphabet Song."
SHOW TIMES:
Friday, January 24, 2014 at 10:30am
Friday, January 24, 2014 at 6:30pm
Saturday, January 25, 2014 at 10:30am
Saturday, January 25, 2014 at 2:00pm
Saturday, January 25, 2014 at 5:30pm
Sunday, January 26, 2014 at 1:00pm
Sunday, January 26, 2014 at 4:30pm
When:
Friday, January 24, 2014 - Sunday, January 26, 2014