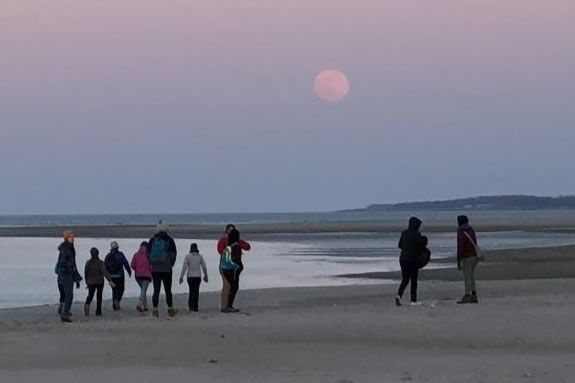 There is almost nothing more peaceful than a evening walk at the Crane Estate, and we would like to invite your family to join us for a unique hiking experience. With the full moon rising over the Atlantic, we'll start with a sunset stroll along Crane Beach admiring this spectacle before heading into the dunes to explore it's trails under the light of the full moon. This is a great opportunity to get the kids outside, share the joys of nature at twillight, and bond with your family.
CraneExplorer events are designed to appeal to the little ones* while giving their parents a great opportunity to enjoy the beauty of the Crane Estate. These hikes cover less ground to accommodate smaller strides and have more frequent stops to look, listen, and learn from our CraneOutdoors guides. Not just a walk in the woods, these family-friendly experiences teach kids and delight adults by exploring the wonder of our coastal habitats and the rich history of the Crane Estate. Family pricing is for one "average" nuclear family (approximately 2 adults and 2 children). If you have a larger family or want to bring additional family members please purchase additional tickets. All children must be accompanied by an adult.
*The "little ones" typically means children ages 5-12. Please be aware that we do walk the full two hours and cover approximately 2-3 miles. As such, parental discretion on your child's ability to manage this activity is advised. If you have questions, please reach out to our CraneExplorer Lead Guide, Meghan Bowe, at mbowe@thetrustees.org.
When:
Thursday, September 28, 2023 5:45-7:45pm
Friday, September 29, 2023 5:45-7:45pm
Friday, October 27, 2023 5:15-7:15pm
Saturday, October 28, 2023 5:15-7:15pm
Prices:
Member Families: $36
Non-Member Families: $45