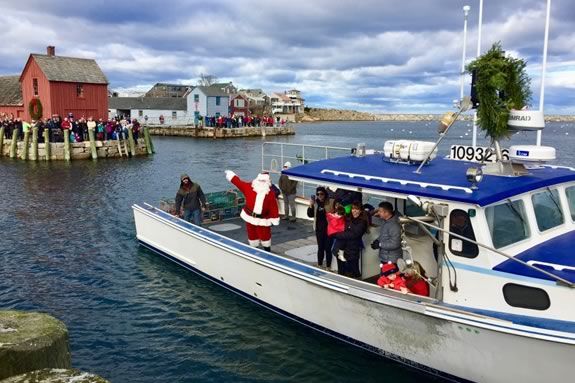 Where else can you see Santa arrive by lobster boat? Santa will arrive at Rockport's T-Wharf on Rockport Harbor following a brisk lobster boat ride across Sandy Bay. Then Santa will climb up onto a Rockport Forest Fire truck and proceed along T-Wharf and Broadway to the First Baptist Church, led by Rockport cub scouts.
This year Santa will be able to linger a while to visit and have photos taken with the children at the church until the Tree Lighting Ceremony begins. Then Santa will ascend the platform to greet the crowd and kick off the Tree Lighting festivities, before climbing back onto the fire truck to begin his long return journey to the North Pole.
THE TREE LIGHTING CEREMONY will get underway at 4 PM welcoming Santa and the public to Dock Square with carols and a stirring rendition of "Christmas in Rockport".
The Chairperson of the Board of Selectmen will offer official greetings from the Town and then  this year's Rockport Christmas tree will be lighted for all to enjoy.
When:
Saturday, December 4, 2021 12:30-5PM