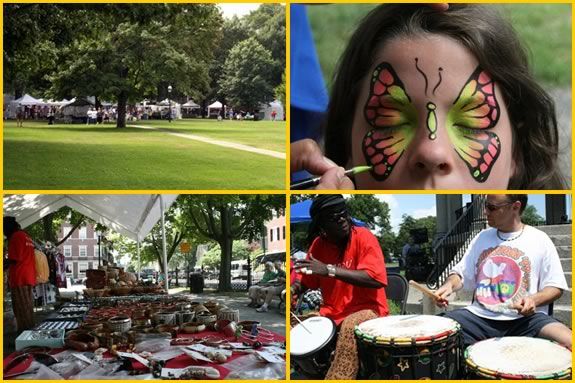 The Salem CultureFest 2014  will feature live bands who showcase many cultures and styles, as well as other performers (TBA) who will entertain you while you enjoy exploring the unique arts, crafts, and wares of our areas finest artists and crafters. Over 2000 visitors are expected to attend this fun family-friendly event.
One of the primary goals of the Salem CultureFest is to showcase the many cultures and diversity found in and around Salem and the North Shore. For a city with such rich history, Salem should become known for what it truly is: A place to explore anytime of year.
Funds raised from previous Salem CultureFest celebrations provided over 2000 students at the AEDEC School in Dakar, Senegal with a state-of-the-art computer lab and network (the first of its kind in a public school in Senegal), sewing machines to a job training facility in Porokhane, Senegal to assist young women in becoming self-sufficient, as well as provided much needed support to local Greater Salem area organizations including HAWC (Help for Abused Women and their Children), the Salem Education Foundation, the Gathering of Salem, and the Plummer Home .
Funds raised at Salem CultureFest 2014 will be utilized to further our efforts to acquire and distribute medical equipment and educational supplies to areas of need in West Africa. In addition, we will be donating a portion of all funds raised at Salem CultureFest 2014 to another local non-profit to be announced at a later date.
This program is supported in part by a grant from the Salem Cultural Council, a local agency which is supported by the Massachusetts Cultural Council, a state agency.
Video from the 2011 A3d Salem Cultural Fest
When:
Saturday, July 19, 2014 10am-8pm
Sunday, July 20, 2014 10am-6pm