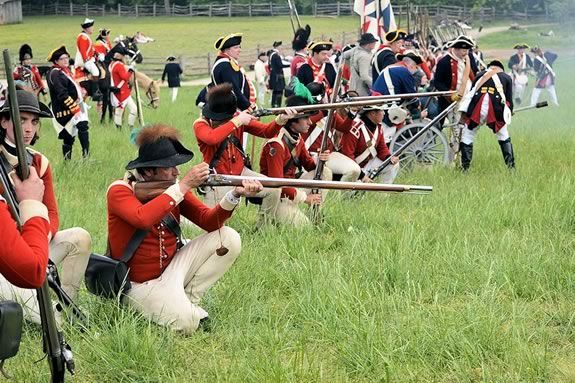 The Escape from Boston Revolutionary War Reenactment is a weekend encampment and battle scenario that plays out this "what-if" scenario that might have changed the course of the American Revolution. Meet Revolutionary War soldiers from both sides of the conflict. Members of the Continental Line and His Majesty's First Regiment of Foot Guards re-enact a retreat from Boston with cannon, cavalry, and drills throughout the day. Come watch the colonial forces battle with the British Redcoats at the Escape from Boston Revolutionary War Reenactment to determine our destiny as a nation.
There will be colonial shopkeepers selling their wares, 18th c. craftspeople demonstrating early trades, modern food vendors, and tents by Ipswich Ale and other local vendors. The Escape from Boston Revolutionary War Reenactment is a great day for the whole family, and a great experience for the participating reenactors. Come join us for the history, for the education, and for the fun!
Learn how battles were planned and how camp life was managed. Tour the 1690 manor house, the home of two of Newburyport's Revolutionary War heroes. Sip an Ipswich Ale Brewery cask ale, a local beer brewed in the old style. Watch the Essex Base Ball Assosciation play demonstration games of early cricket. Fresh food and drink will be available for purchase.
When:
Saturday, May 20, 2017 10am-5pm
Saturday, May 21, 2017 10am-5pm
Prices:
Historic New England Members: Free
Non-Members: adults: $8 ; seniors: $7 ; students: $4