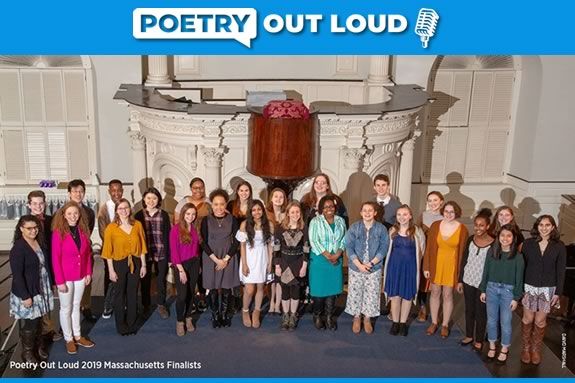 Poetry Ou Loud holds a semi-final competition for students in Newburyport and the surrounding area! Poetry Out Loud is a national recitation contest that celebrates the power of the spoken word and a mastery of public speaking skills while cultivating self-confidence and an appreciation of students' literary heritage as they take poetry from the page to the stage. Poetry Out Loud has inspired hundreds of thousands of high school students to discover and appreciate both classic and contemporary poetry.
The Newburyport Semi-Final will be held at Newburyport City Hall, 60 Pleasant Street, Newburyport, MA. The Huntington Theatre Company's Education Department, in partnership with the Mass Cultural Council, are proud to facilitate Poetry Out Loud for the state of Massachusetts. Special thanks to the City of Newburyport for hosting us and to the staff at Theater in the Open for connecting us to this new location.
For more information on the City of Newburyport visit the official website at cityofnewburyport.com
For more information on Poetry Out Loud, visit the official website at poetryoutloud.org. For information about the Massachusetts contests, please contact Meg O'Brien, Interim Co-Director of Education at poetryoutloud@huntingtontheatre.org.
For more information on Theater in the Open, visit the official website at theaterintheopen.org
**The contest at all levels are free and open to the public.
When:
Saturday, February 29, 2020 10am-12:30pm