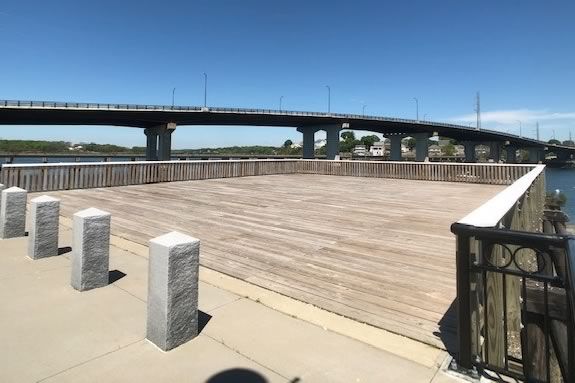 Save the date to "PARTY ON THE BRIDGE"!!!!!!!! FREE & open to Everyone. Montserrat College of Art, Bridge Street Neck Neighborhood Association (BSNNA) & other City folk from Salem & Beverly are planning a fun, family-friendly evening block party as part of Montserrat's week long Arts Festival on both sides of the Salem-Beverly Bridge. BSNNA will be lighting up the park while Montserrat lights up the bridge! Free admission!
Party On The Bridge will bring together neighbors & friends through art. Local DJs & band, dancing, a shipping container art gallery, local food vendors, Notch craft beer tent, and much more. Free kids activities. 50% of raffle proceeds will be donated to recent Bridge Street Neck fire victims. All are situated at the pier with scenic views out to Salem Sound & Beverly Harbor.
Party goers can park along Bridge Street (overflow parking at the Carlton School lot). The walk from Carlton to Remond Park is about 10 minutes. Zagster will have an eScooter station at Mobil and Remond Park.
The Party is part of the Crossing Water project, which was conceived to bring attention to the historic nature and economic potential of these two communities. Monserrat's grant funding will provide for basic infrastructure needs such as restrooms, rubbish removal, staging, & audio/video equipment.
When:
Saturday, September 7, 2019 4-9pm