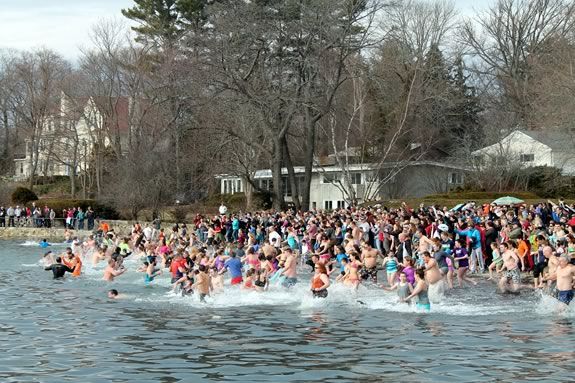 North Shore Community Development Inc., Lifebridge North Shore, River House and the Salem Education Foundation, are asking us to rally our students, friends, family, and networks to support the mission to end homelessness. The 2019 Polar Plunge takes place in both Beverly and Salem- Teams are created accordingly in each school district, with each team "competing" (healthily) with in their own school district.
By becoming a fundraiser for the 2019 Polar Plunge, you will help combat homelessness and will be giving the opportunity for groups and individuals to make some great changes in their community and beyond! The Salem Plunge will be held at Winter Island in Salem MA., and Lynch Park in Beverly, MA on Super Bowl Sunday, February 3, 2019!
Starting a fundraiser is easy to do, and it's fun. We'll even give you all the tools you'll need to make a difference and start your teams! With your help we can ensure to help support homeless individuals by providing shelter along with the resources to secure a stable income, adequate health care and permanent housing. 
The North Shore Polar Plunge supports organizations in both Salem and Beverly. 
Proceeds from the plunge will go to the following local non-profits:
Registration is open until plunge day and all are welcomed to join as a supporter or plunger. For more information, please contact Abbie Allenson at abbie@northshorecdc.org.
Salem Times | Winter Island Maritime Park:
Check-in at 9:30 a.m.
Plunge at 11:00 a.m.
Post-Plunge Party at Salem Winter Island Function Hall
Beverly Times | Lynch Park:
Check-in at 11:00 a.m.
Plunge at 12:30 p.m.
Post-Plunge Party at Beverly High Cafeteria