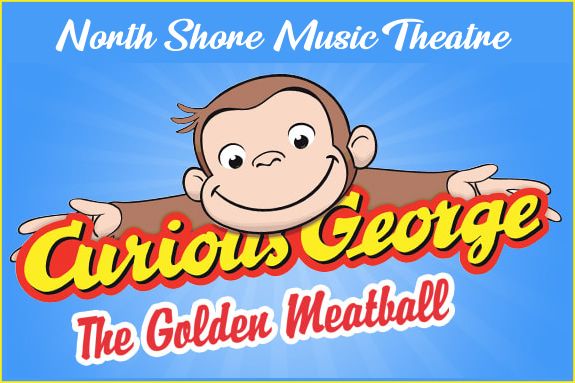 Curious George: The Golden Meatball is a lovable adventure that is sure to leave young audiences singing and swinging down the aisles. Join Curious George, the inquisitive, lovable monkey-star of books, movies, and the award-winning PBS television show in a brand new musical!
All You-Can-Eat Meatball Day came just once a year. George had been waiting all month for that day, a day almost bigger than his birthday! On Meatball Day, George helped his friend, Chef Pisghetti, cook some delicious meatballs and serve them to the hungry crowd. But this year, the crowd had vanished! Something was keeping people away... something pretty big. And that something was Phinneas T. Lightspeed and his speedy Meatballs-o-Matic machine. In despair, Chef Pisghetti vows to cook no more! Determined to help his friend, George goes on a mission to enter the Chef's meatballs in the world-famous Golden Meatball Contest in Rome. With every swing and flip, George takes the audience through a fun-filled adventure, in which he learns more about Rome... and meatballs... and the secret ingredient to cooking!
Children's shows run approximately 1 hr  15 min (includes intermission)
CONTENT ADVISORY: Suitable for all audiences.
ABOUT NSMT
Since 1955, NSMT has become one of the most attended theatres in New England, with approximately 250,000 patrons annually. With a national and regional reputation for artistic achievement, NSMT has received numerous industry awards including Elliot Norton Awards, IRNE Awards, the Rosetta Le Noire Award from Actors' Equity, and the Moss Hart Award. NSMT produced the World Premiere of Memphis in 2003, the show went on to win four 2010 Tony Awards including Best Musical. Under the new ownership of Bill Hanney in 2010, NSMT continues to annually produce a musical subscription series and an annual production of A Christmas Carol along with celebrity concerts and children's programming along with year-round education programs.
When:
March 30, 2019 at 10am & 2pm