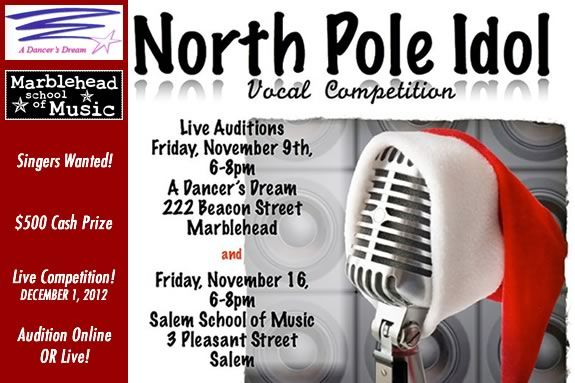 Come to Marblehead for North Pole Idol - a contest to see who has what it takes to win a $500 cash prize with their voice! This live performance competition will take place at

Nonexistent node nid: 3703.
at the end of November - part of the Marblehead Christmas Walk.  Contestants will be chosen by auditioning live or online, so see the instructions below to find out how you can audition!
2012 Finalists Have Been Chosen!
Those listed below will be performing live at North Shore Idol for a chance to win $500 cash:
Davis Franklin
G.T.M.
Amanda Howard
Annabelle Kearney
Philip Pereira
Sara Rhuda
Alice Sullivan
Sarah Tallent
Julia Taliesin
Elizabeth Tauro
Lynda-Rose Veciarello
Come to the

Nonexistent node nid: 3703.
event on December 1, where contestants will perform and a winner will be chosen!
This event is sponsored by A Dancer's Dream and Marblehead & Salem School of Music.
When:
Saturday, December 1, 2012 1-4 pm