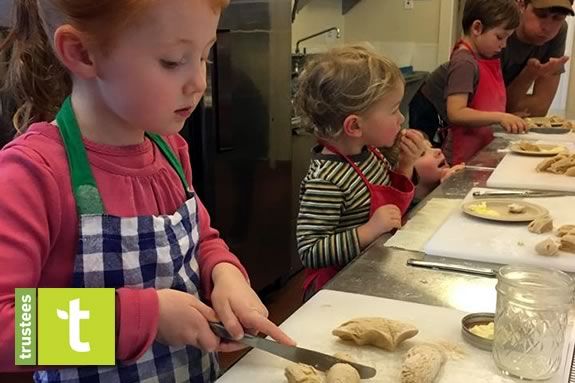 Join Appleton Farms for a kids in the kitchen session for preschoolers and try out some delicious kid-friendly recipes with ingredients right from the farm! Each week we'll practice our cooking skills and make something tasty together. While our creations bake, cool or simmer we'll pass the time with a fun farm craft. Recipes will include: Bread & Butter, No-Bake Granola Bars, Farm Frittata, and Home Made Apple Sauce. Please pre-register. Fee covers one adult and child. Younger siblings are welcome with an additional fee of $24/$30 for member/nonmembers.
Please Note: This program meets every Wednesday for 4 weeks during the following dates. Price covers all 4 weeks. We will skip the week of November 21st for the Thanksgiving Holiday. 
November 7, 2018
November 14, 2018
November 28, 2018 
December 5, 2018
If you have a group of moms or children in afternoon kindergarten, contact us about signing up your group of 6 or more for private Farm Explorer sessions!
When:
Wednesdays, November 7, 14 & 28, 2018 9:30-10:30AM
Wednesday, December 5, 2018 9:30-10:30AM
Prices:
TTOR Member Child & Adult: $60
Non-Member Child & Adult: $75
Addtional Siblings: TTOR Member: $24; Non-Member: $30