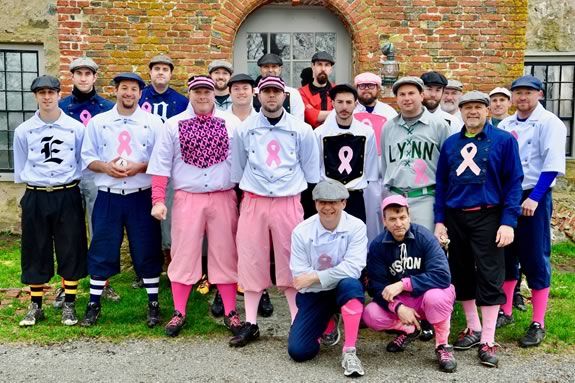 Join the Essex Base Ball Organization on October 13, 2018, as members of the vintage base ball community will be participating in the 5th annual Jan's Pitch for Breast Cancer and the Arts, to raise money for cancer research and to fund art education in inner city schools in Lawrence, MA. Three games will take place at the beautiful Spencer-Peirce-Little Farm, featuring teams from all over New England and beyond.
Jan's Pitch for Breast Cancer and the Arts celebrates Jan Sheehy- a dedicated art teacher and mother of Essex Base Ball Club players Brian and Chris Sheehy- who lost her battle with breast cancer in April of 2013. Proceeds will be donated to breast cancer research and art projects at the Arlington School.
Admission is $5 and we will have raffles, silent auction items, food, and of course Ipswich Ale
Grass field seating: bring blankets and lawn chairs
No reserved seating
Weather permitting
The Essex Base Ball Organization, a non-profit "vintage" baseball group that plays baseball as it was played in the 19th century. We are based out of Newbury, MA and have four teams in our organization the Essex Base Ball Club, Lynn Live Oaks, Lowell Base Ball Club, and Newburyport Clamdiggers. One of our goals is to teach the history of baseball through games and demonstrations. In addition to playing a full schedule of games every summer, we run youth clinics in which we teach children the evolution of the game through hands on activities; we also give lectures on baseball history at historical societies, libraries, and other civic organizations.
When:
Saturday, October 5, 2019 11am-2pm